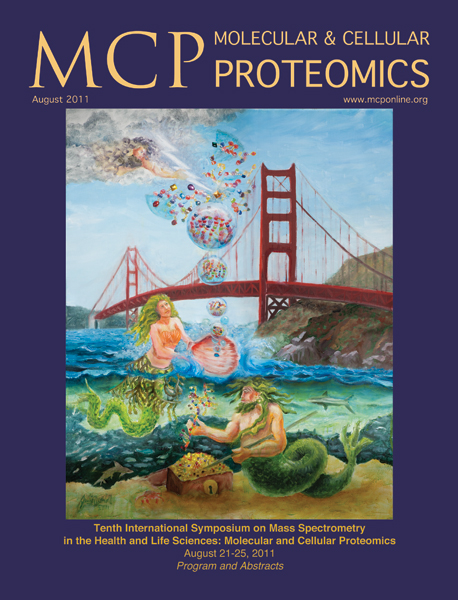 "The Tritones of Mass Spectrometry" Oil painting by Julie Newdoll, www.brushwithscience.com, 24" x 30".
The Tritones are sea gods which normally do the bidding of Poseidon, king of the seas in Greek Mythology, but they have come to San Francisco for The 10th Annual Symposium on Mass Spectrometry. The merman is tossing up strands of jewels, which represent proteins, towards the surface of the bay. The mermaid holds a shell that allows a stream of water droplets through a hole in the center, alluding to the principal of mass spectrometry whereby a stream of water droplets containing the proteins of interest are sent into an electric field and become charged. Once the droplets containing protein "necklaces" reaches the sky, they are struck by a bolt of lightning by the helpful Zeus. This reflects the step in Mass Spectrometry where electricity is used to chemically break the protein into smaller, ionized pieces, which are sorted and analyzed according to their charge and weight. Strands of pearls attached to large gems represent epigenetic modifications to the proteins, a valuable piece of information gathered using this technique.

Poster and program cover for the Tenth International Symposium on Mass Spectrometry in the Health and Life Sciences: Molecular and Cellular Proteomics, August 21-25, 2011.