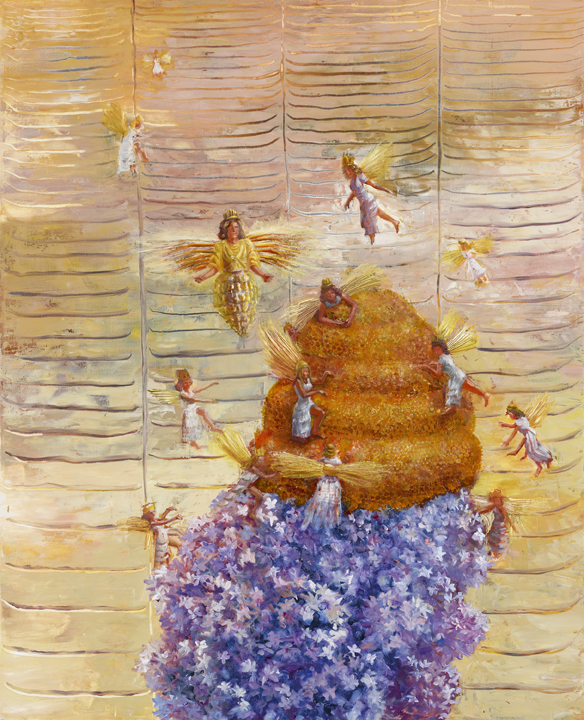 An image of this painting was used in the Nobel Prize speech by Elizabeth Blackburn.
The purple flowers in this painting represents the end of a condensed chromosome, capped off at the end with a hive that symbolizes a telomere. Telomeres in part serve to protect each chromosome by preventing them from unravelling, sticking to other chromosomes, being chewed away by enzymes and the like. Various proteins, such as telomerase, help to protect the telomere and lengthen it when needed. The most current
understanding about how proteins interact with the telomere has been described by Elizabeth Blackburn as "bees buzzing around a hive rather than a rigidly interlocked defensive wall."* Blackburn discovered telomerase and pioneered the field of telomere research. Bees have a long history with human kind, and ancient rings show goddesses as bees from Sumerian times. The artist found it fitting that in a field pioneered by a woman, which includes many prominent women scientists who have benefitted from her
guidance, a Queen Bee and her Priestesses should be used to represent the proteins swarming about the telomere "hive".

*From page 205 of the book "Elizabeth Blackburn and the Story of Telomeres" by Catherine Brady, The MIT Press, 2007, and personal communication with Professor Blackburn.