Newdoll Enterprises is a family business owned by Ron Newdoll Sr. specializing in solar power. The Brush with Science Gallery is housed in the main office.
Address: 3515 B Edison Way, Menlo Park, CA 94070
Phone: 650 440 0084
Web address: www.brushwithscience.com
Gallery Hours: Monday - Friday from 9:00 - 4:00.

Directions: This space is technically in a district called Fair Oaks. Web directions are often confusing or wrong. From 101, take Marsh Road West, towards Menlo Park. Make a right on Fair Oaks (shortly before you hit Middlefield). This intersects with Edison Way. Make a right on Edison Way. It is the last building on the left. Entry is on the left side of the building as you are facing it. There are large solar panels in front of the building.
From El Camino, take 5th Avenue towards 101 (right if going North on El Camino) to Edison and make a right onto Edison Way. Take it almost to the end.
The Gallery is between the two buildings at the end of Edison. Here is an image of Edison Technology Park:tp/maps.google.com/maps?q=3515+Edison+Way,+Redwood+City,+CA+94063,+USA&sa=X&oi=map&ct=image
Newdoll Enterprises
Google Map
Large Painting Sale! Click for details and larger images: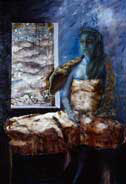 Until May, two large pieces are 50% off! These pieces are not on view in the Brush with Science Gallery. Please contact to make an appointment to view. They are large, 4' x 5'. (650) 440 -0084